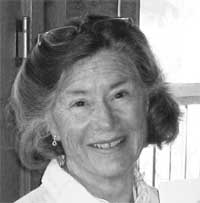 ABOUT THE AUTHOR
Sandra Cortner's photojournalistic career spans four decades. An accomplished photographer, she founded the Crested Butte Pilot newspaper, which she ran single−handedly during the 1970s. She also worked for the Gunnison Country Times, Mountain Sun, and Crested Butte Chronicle, and received multiple awards from the Colorado Press Association and the Colorado Press Women's Association.
Dating from 1968, a gallery of her hand-printed black-and-white photographs commands a place of honor in the Crested Butte Mountain Heritage Museum.
Today, Sandra Cortner contributes to the Crested Butte Magazine and the Crested Butte News. She and her husband Greg Payne created the Extreme Limits Ski Guide map, now published by the Crested Butte Professional Ski Patrol (970-349-2236) and available at Crested Butte and Gunnison area retailers.
REVIEWS
"…Cortner shot more than 100 faces of Crested Butte's old-timers—former miners, immigrants, children of the town's settlers. She started the project in her 20s, unknowingly building the foundations of her new book…a photo-driven tribute to the small town's elders."
—Colorado Springs Gazette
"… the current of a deeper common history flows through Cortner's simple, elegant black and white photos of clear-eyed cowboys with shy, small smiles, tidy homemakers standing at the stove and wide, empty, stop sign-free streets. In her stories of slow moving technology, like the introduction of Defiant woodstoves to replace the use of coal, neighborhood-wide mushroom hunts, weekly polkas, a 10-year-long softball craze and Tony Mihelich standing sentry at "the Hardware," she builds a growing nostalgia for the kinds of mountain communities that we all have lost … haunting sincerity of those images that deepens the storyline of the book."
—Mountain Gazette
"In their stories lays something priceless, a depth of experience that can only be recorded in part by the superb photographs and the essays by Cortner. A retired newspaper and magazine editor, she writes eloquently enough to rival the excellence of her photographs. The combination of both makes for a captivating book that is well worth the read."
—Colorado Country Life
"A fine photographer, as well as a reporter who lets people tell their own stories…"
–Tom Noel, aka "Dr. Colorado," Denver Post columnist
Also reviewed in
–The Coloradoan at the University of Colorado
–Gunnison Country Magazine
–Crested Butte Magazine
–Crested Butte News
–Crested Butte Weekly

–A presenting author at the Readers in the Rockies, Crested Butte Writers Conference
–Award winner—Colorado Press Women
–Selected as a "Colorado Voices" columnist for the Denver Post
–Featured speaker at the Crested Butte Mountain Heritage Museum