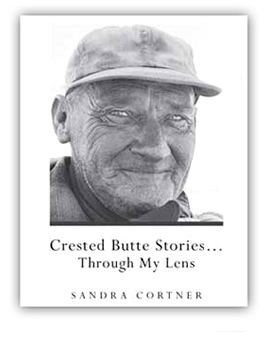 Crested Butte Stories . . . Through My Lens is a hard-bound, collection quality, 8 ½ by 11 inch volume of 244 pages including 159 black and white photographs. $50.00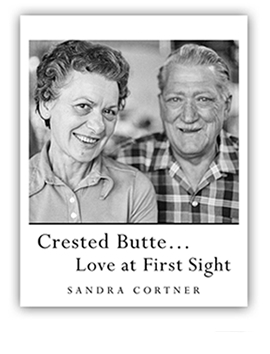 Crested Butte . . . Love at First Sight is a hard-bound, collection quality, 8 ½ by 11 inch volume of 208 pages including 121 black and white photographs. $50.00
Mail Orders
Send a check or money order for $50.00 for each book sent to a separate address (includes tax, shipping, and handling) to:
Wild Rose Press
189 Wild Rose Lane
Almont, CO 81210
Email Orders
Order any number of books directly from Wild Rose Press by e-mailing  wildrosepress@crestedbutte.net
Telephone Orders
Call (970) 209-6663 between 8:30 a.m. and 5 p.m MST
Inscriptions
Sandra Cortner would be honored to personally inscribe your book. To submit the recipient's name, after purchasing your book(s), please reply to your receipt email with the inscription information. If you purchase more than one book, please indicate which name should be inscribed on which book. Or, you may phone Sandra at (970) 209-6663 after placing your order. Be sure to email or call soon after placing your order as books are shipped out quickly.
Shipping Information
We will send your order via Priority U.S. Mail.
Retail Locations
Crested Butte Stories . . .Through My Lens and Crested Butte . . . Love at First Sight are sold exclusively in Gunnison County retail establishments, select Colorado bookstores, and through www.crestedbuttestories.net.